Bio-data (Short version)
His Grace Archbishop Dr. Kuriakose Bharanikulangara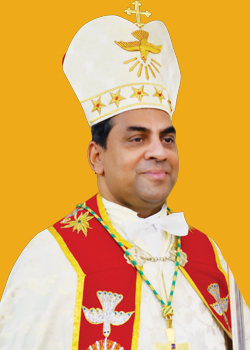 Bornon : 01.02.1959, Karippassery, Angamaly, Ernakulam, Kerala

Priestly ordination : 18 December 1983
University studies in Malayalam language and literature : Kerala University
P.G. Diploma in Journalism and Communication : BharathiyaVidhyaBhavan with a paper on
"Investigative Journalism" (rank-holder).
Higher Studies
Licentiate in Latin Canon Law: Pontifical Lateran University, Rome
(1989-90); Licentiate in Oriental Canon Law: Pontifical Oriental
Institute, Rome (1990-1991);
Doctorate in Oriental Canon Law
Pontifical Oriental Institute, Rome, with research work on
"Particular Law of a sui iuris Church: a Blueprint for the Syro
Malabar Church" (1992-1994)
Post Doctoral Studies in Jurisprudence:
Pontifical Gregorian University, Rome (1994)
Linguistic Preparation
-Diploma in Italian Language and literature from the Universita' per gli Stranieri, Perugia
-Diploma in French language from Institute St. Luis de Française
-Diploma in Spanish language from, University of Salamanca, Spain
-Advanced course of German language and literature
-Working knowledge of Hindi, Arabic, Latin, Greek and Hebrew
Diplomatic Training
Pontifical Ecclesiastical Academy (Diplomatic Academy of the Vatican).
Diplomatic services
Probation in Thailand; Cameroon and Guinea Equatorial (Second Secretary); Iraq and Jordan (First Secretary); Venezuela (Second Counselor); Republic of Congo and Gabon. When he was in Venezuela his effective diplomatic mediation saved the life of its President Hugo Chavez and spared the country from a civil war.
-Permanent Observer Mission of the Holy See to the United Nations in New York (First Counselor). He was desk officer for the so-called Second Committee of the United Nations, dealing with development, climate change, sustainability, poverty eradication, etc.
-Apostolic Nunciature in Germany as Deputy Head of the Mission. Since July 2011- April 2012.
Bishop of Faridabad Diocese: May 27, 2012 (The new Diocese of Faridabad comprises the National Capital Territory of Delhi, the States of Haryana, Punjab, Himachal Pradesh, Jammu-Kashmir as well as the Districts of Gautambuddhanagar and Ghaziabad of Uttar Pradesh). Total catholic population of the new Diocese is around 150000, mainly migrants from Kerala.